3 Yard Iridescent Chiffon Veil - $22.00
Soon be discontinued due to lack of fabric supply

This luxurious fabric has an elegant sheen and a two-toned effect that changes shades and colors as the veil is moved. These veils are 45" by 108" with rolled hems. As we sell out of these popular veils, our in-stock colors are running out. When they are gone - they are gone!
See Fabric and Sizing for current color selection.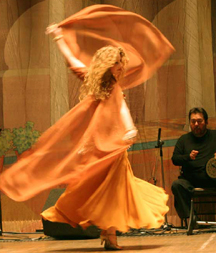 Left: Shanna King, professional dancer from the SF/Bay Area using one of our copper veils. Notice the flow, the grace and beauty of this luscious fabric in the hands of a pro.
Right: Zemira dances with an orange iridescent veil.