What's New
January 15, 2010 - This new decade is starting off incredibly creative and busy. I have added a page on Facebook, and for those of you that are part of that network site you can become a fan and get the most up to date reports from me. It is there first that I will post stock that I am moving out. Things like music, books, or clothing items that are going away. So come join me and a few dozen fans (so far).

The Dickens Christmas Fair was once again a treat, a sugarplum treat that is. I had a great time being an assistant manager at one of the busier bars and getting to know a whole new crew (well new to me at least). Attendance was up and holiday cheer was had by all, even Mr. Scrooge.

It has been frightfully cold here in the eastern Sierras. I have tried to stay warm and keep the machines humming. Though I did spend my December playing more than working I promise you that I will be putting my nose to the grindstone, so to speak. Enjoy the rest of your winter and remember to check the Vending Schedule and the new Facebook page.

Namaste

October 16, 2009 - Has it really been almost a whole year since anything new has happened? True and not true!! The mailing list sign up is new. I went to different events this year that I hadn't been before. Met a lot of new people and got to know some that I had met in the past better. On a side note I have been taking classes in various healing energy work. One of these required travelling to Kanab, Utah to the Best Friends Animal Society sanctuary. Beautiful place with many caring humans and thankful critter be-ings. So come by the booth with one of your furry or feather friends and say hello. Check the Vending Schedule to see where I will be, and check it often cause it gets updated frequently.

Simply Stylish has a new product line out called Caravan. Bedouin Blouses out of the finest cotton voile, pants from cottons and linens, dresses, vests, and abas for the men. There is much to do before they are on this site, but they will be here soon. Some items will be made with one-of-a-kind fabrics so you may not see them unless you are at the booth.

Due to the price increase on Silk Essence I am afraid that I will have to discontinue this beautiful fabric. However, I am bringing back the China Silk. I have found a supplier that has 50 colors of this gorgeous fabric. As a Silk Essence color starts to run out I will be purchasing China Silk to replace it and more. This company has 5 different colors of gold!!

The cottons are also going through a bit of a change. I now have access to Kona Cotton (that wonderful fabric that quilters love) from Robert Kauffman Fabrics. This cotton makes a great pair of pants and there are so many colors to choose from. I am also planning on ordering linens in the future. Also I will be bringing more fabric for sale to the events I am attending.

Since I am planning on bringing fabric with me I need to make room. Do you need some music? Come by the booth for so great deals on world beat, fusion, and modern belly dance tunes. I will still carry some titles but they will be more of the traditional sound.

Keep warm this coming winter. We have already had snow here in the high desert though you wouldn't know it from all the sun and warmth we are getting now. And if you didn't make it to the Dickens Christmas Fair last year then come on out this year. The event is at the Cow Palace in Daly City, CA (that's just south of San Francisco). For more info go to http://www.dickensfair.com/ .

Namaste

November 20, 2008 - Summer slipped by and fall was far too brief. Perhaps it was all of the travelling across the western U.S. that caused time to fly by. No matter now that winter is trying to set in here in the eastern Sierras. At this time of year I like to think about new designs for the upcoming year. And am happy to announce that there are prototypes are in the works for the new year.

So, you may have noticed the Sale Rack page. Yep, sometimes you just have to say goodbye to beautiful items to make room for newer ones.

Some of you may have noticed that I didn't make it to Desert Dance Festival in the San Jose area this year. Sorry if you missed the booth, and the staff, but I was indulging myself at the Northern California Renaissance Faire at Casa de Fruta. No, I wasn't selling my clothing there, instead I was slinging beer and dancing (English country dance that is). If you have never had a chance to attend this event do so. It spans 6 weekends in September and October. So you still have a chance to go to DDF and the faire. I saw some very familiar faces there this year.

This coming December will find me once again behind a bar at the Great Dickens Christmas Fair in the San Francisco bay area (the Cow Palace to be more precise). So put on your Victorian finery, or your holiday fun clothes, and come out to what we refer to as a Christmas card come to life. Rub elbows with some of Charles Dickens' characters. Come by the 3 Cripple's and have a hot cider (with or without the rum) or, dare I say, a Champagne Royale. For more info you can go to www.dickensfair.com.

The new Vending Schedule will go up around the first of the year. There are so many events and so little time, and money, to get to them all. I hope to see you this upcoming year. Until then have a wonderful winter and stay warm.

June 10, 2008 - Has it really been a whole year since I told you what's new? I believe that we are all so busy that that time really does seem to fly by. I'm making a note to myself to try to take time out each day and just be. Don't' know if it will happen or not but I am going to try. In the mean time Simply Stylish has been on the road, a lot. Even with the price of fuel (and I drive a big diesel truck) being so high I just can't resist all of the fun events that I get to attend. The vending schedule looked a little vacant at the beginning of the year, but it keeps filling up. Look for the booth at more SCA events.

A very big thank you to all of you who have come to the booth, or ordered on line, so far this year. I know that everyone's money is tight right now and your support of Simply Stylish lets me know that there are still people out there who like being able to purchase a quality product at a fair price.

Again I want to thank Pat, Dawn, and Alisha for all of their help in the booth. You ladies are the best. They are trying to teach me the fine art of how not to micro manage.

There are some new items that I have in the booth for the d.i.y. crowd. Look for Afghani coins, bells and mirrors to put on your creations. Bags of safety pins for those emergencies, or not. Bits and pieces of jewelry and other things that I bought years ago and never used and now need a new home. Fabric that I had every intention of turning into something fantastic and now don't have the time for. There are also a few new colors of pants like brown, rust, and fuschia in silk essence, and I am working on the cotton selection.

On a sad note the availability of chiffon with the nice selvaged edge is hit and miss. So, although I have a wide selection of classic solid chiffon colors the iridescent chiffon is disappearing. Seems that the manufacturers only want to make it in a 60" width. So get the color you want while I still have it.

I look forward to either meeting you in person or talking to you on the phone and helping you out with your costuming needs. Have a great summer and remember to dance with from your heart.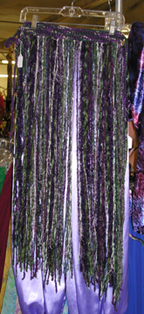 June 17, 2007 - Wow - half the year gone - boy is time flying. Another incredible year at Rakkasah. Thanks everyone for stopping by the booth, where Pat, Jim and I were busy, Busy, BUSY! Hope you got to check out some of the new hip wraps and fabrics that were transformed into beautiful pieces of dancewear. We debuted our new panne velvet sleeves and unveiled the new spring collection of fabrics. Our new product line - the HipFuzz - raised quite a buzz and sold out Friday night! These belts are designed by Chandra Young and are a collaborative design project between us. Each one is a totally unique one-of-a-kind work of art!
Saqra's Showcase was a BLAST! Booth babes Davina and Zemira joined in the fray as we faced challenges like the two hour delay due to the fire alarm going off. (Is there REALLY a bad look fireman anywhere? We'll keep you posted!) We are convinced it was caused by the event sharing our building entitled (believe it or not) "Every Husband's Nightmare Bazaar" where kitchy, country and shabby chic were the order of the day! Saqra's event with numerous workshops presented by excellent instructors from up and down the West Coast once again drew dancers from many states - some coming as far as Idaho, Nevada, and California. If you are in the Portland area - heck - anywhere in Oregon or Washington state - this show is not to be missed.
We ventured forth to Joshua Tree where we were in the bowl with the music. People were dancing and the vibe was happening. Jim has devleoped the dance of the parasol which involves using your shade umbrella to catch the wind. Very artistic indeed! The artists at this show were outstanding - I can't even begin to describe it...
Cairo Carnival was our next major event in Southern California where the tribe of Simply Stylish Booth Babes held sway over our double-wide booth near the entrance to the show. Once again, MECDA hosted a great event at the beautiful historic Santa Anita racetrack. Thanks to everyone who stopped by to shop our booth and regale us with tales of the past year. Ingrid - we won't ever forget you.
The High Desert Belly Dance Festival in Bend, Oregon was a whole new adventure. This small event in its sixth year had an amazing diversity of talent and styles with performers from every sub-genre of the belly dance world. I enjoyed watching dancers I had never seen before and making new friends. Thanks Sahara and Jodie for a great time.
As you can tell - it has been a busy year indeed! We are gearing up for a short summer swing, with a break for August when the studio will be rocking and rolling after we return from Reggae Rising. Keep your eyes on our vending schedule to find out when we will be at an event near you.
February 9, 2007 - What a year Simply Stylish had. Joshua Tree Music Festival was a blast. The campground is beautiful and the days were perfect. We'll be back again this year. Cairo Carnival was at a new venue and will be there again this year. Look for the booth outside in the Gypsy Camp. Check the vending schedule to see where I'll be. Also, check the new On Location page to see what the booth looks like at outside venues.

The website got a little overhaul this winter. Three new pages and new items for you to view. Cairo Carnival was the wonderful backdrop for the Creative Combos page. Thanks to Rayah and Zemira for modeling and looking gorgeous. A big thank you to Dawn Devine for sitting with me and patiently making the changes to the site. Can't wait to see her new book "Veils Unveiled", which I'll be carrying, along with her other titles, as soon as it comes out.

New hip wraps have arrived. Beautiful long fringe on a stretch velvet base and available in several colors.

January 2006 - Simply Stylish welcomes two new models. Rayah in purple and blue and Zemira in orange and yellow. Photos taken by Dawn Devine at Cairo Carnival 2006.
| | |
| --- | --- |
| Rayah | Zemira |
May 4, 2006 – Well it's been awhile and we have been very busy. Thank you to all who have come by the booth at the various events that we have been at, and to those of you who have place orders. (I never knew that "Aladdin" was such a popular production.)

This month Simply Stylish will be venturing out into the uncharted territory of music festivals. This one is the Joshua Tree Music Fest on May 19-21 held at the Joshua Tree Campground near the park. Check out the vending schedule for the link to their site. Look for us also at more renaissance fairs.

VACATION VACATION VACATION VACATION VACATION VACATION
Yes, we will be closed from July 10 - August 10, 2006. A journey to the caribbean is in order. Time to soak in the water and sun. Time to mingle with the locals and drink rum. No worries, we will be open again in the beginning of August.

October 21, 2005 - It's the end of the show season and we're about to go into winter production mode. We've stocked up on fabrics and are settling in for a sewing blizzard. You can order all of your favorites on-line throughout the winter, and our first show of the 2006 season will be January 14, Passages - A Journey Through Dance.
In 2006, we've got new designs. We'll be carrying straight skirts, tie tops and cotton-Cotton-COTTON! We're trying to expand our lurex fabric offerings like the one seen below, to add a little luxe and shine to our costume pieces. At shows in 2006, we'll have more world-beat and fusion music available, an assortment of hipwraps and unique one-of-a-kind costume items made from limited-run fabrics.
April 14, 5005 - Hello shoppers!!! 2005 is turning into a great year.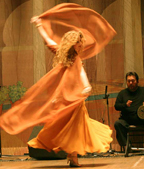 We've made some new equipment investments and upgrades. Rakkasah was great! Thanks to everyone who stopped by the booth and said "Hi!" We saw several Simply Stylish veils on the main stage, and Shanna King, Bay Area professional dancer, sent us some photos. To the left, is a photo taken on the main stage of Rakkasah West '05. Shanna did a lovely performance to live music using a copper iridescent, and you can see from the image, even Uncle Mafufo was riveted by her dance. If you have photos either posed or dancing with a Simply Stylish product, send one to us and we'll be happy to add you to the website!
Below is a photo of Shanna with a rose iridescent chiffon veil. In both of these photos, you can see how they float on the air. Thank you Shanna for sharing your photos. Both pictures by Michael Baxter.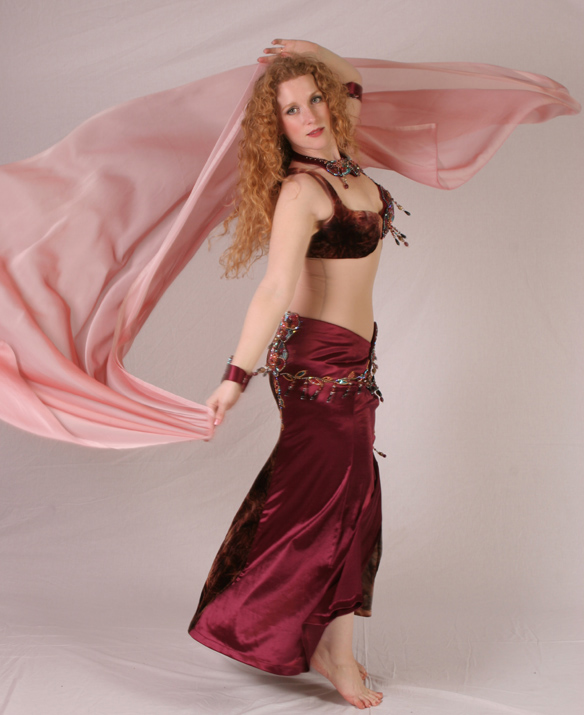 February 3, 2005 - There are some changes happening at Simply Stylish. We will be changing our business telephone number so please make note in your address books. The new number is (760) 937 - 4196. It's winter in the mountains and I've been fast at work stocking up for the next round of travels. We're looking forward to Rakkasah, where we will be in the same location in the left hallway.
We're looking forward to showing off our new tops and skirts to coordinate with our well-stocked line of harem pants and veils. At the moment, we are still negotiating a photo shoot with our photographer, and hope to get pictures of the new styles and colors up very soon. In the meantime, Kathi is working away in her studio in the mountains where the air is fresh and cold - she took this photo to share the view from the top.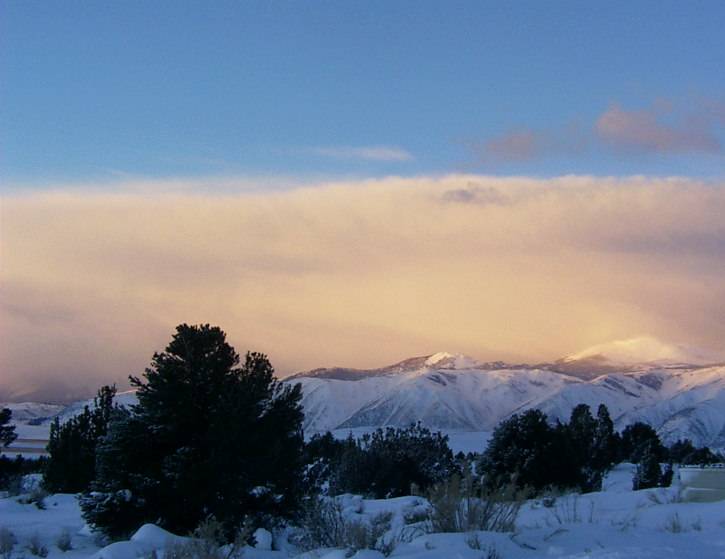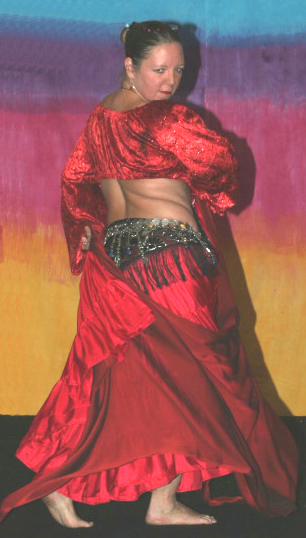 August 25, 2004 - We've just come back from Mendocino Woods Music and Dance Camp and it was a blast! We're back in the studios and making some great new product and working out some new designs for the fall. Here on the website, we've started to add photos from some of our recent events. I modeled in the Wiggles of the West fashion show and Barry caught this photo.
I'm wearing the peasant top in red glitter panne velvet, a 15 yard skirt in red silk essence and carrying a red veil. Added to these items is a hip wrap and an orignal custom Magpie's Hoard coin belt.
This fall I will be spending a great deal of time in the SF/Bay Area. Look for me at Desert Dance Festival in San Jose Sept. 18 - 19 and at Luna Gitana in Santa Cruz on Nov. 13. Visit their websites for more details about the events.
Over the next few weeks there will be some modifications to our site. Our order form is being revamped to better serve you.
May 23, 2004 - We've performed a website overhaul, though, many of the changes are not immediately apparant over the next few months, they will become more obvious as we add content, products and services.
We have a new model working with us. Lu'Lu, a talented young dancer from the Greater San Francisco Bay Area has joined the Simply Stylish team as a model and appears on the Main and Tops page. We look forward to working with her some more in 2004.
Our Panne Velvet stock is greatly expanded and we have plenty of new colors to choose from. In addition to the colors we recieved in March, we have some exciting and fun new shades including: turquoise, lt. teal, olive, orange, berry, fuchsia and pink.
I've been travelling a great deal, I've been vending with Dawn Devine and Mary June of Aunty Magpie's Shining Hoard. We've been to Portland for Saqra's Showcase, Sebastapol, CA for Tribal Fest and soon we will be on our way to Glendale (LA) for Cairo Carnival. Look for us at an event near you. For more info, check out my Vending Schedule.
April 1, 2004 - Panne velvet stretch peasant top. I've picked up a wide variety of colors in this fabric. Colors include: Black, Purple, Lilac, Royal Blue, Denim Blue, Teal, Green, Yellow, Antique Gold, Red, Champagne, Off White, and White. Please contact me for availability.

March 30, 2004 - Rakksah 2004 was a HUGE success! Thanks to everyone who stopped by and said "Hi!" Special thanks to Pat Cahill who helped out in the booth and all the folks from Bhuz.com who stopped by and put their name on the Bhuzzer board!
October 21, 2003 - This week, we've begun to add some more detailed information about our products. Check out the better descriptions of our pants! We've been busy through 2003 attending many events throughout California and Nevada. Check out our Vendor Schedule to see when we will be visiting your area.
June 23, 2003 - Updates have appeared on almost every page! Look for new things such as more images of veil swatches, updated information on the skirts, pants and veils pages.
January 7, 2003 - First edition of the Simply Stylish website becomes avaiable on line.
Photo - Kathi on St. John - August 2003